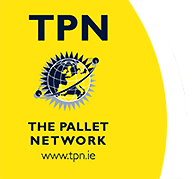 We are offering free next day, nationwide delivery of up to two pallets for any new customers who would like to see for themselves the excellent service that we offer through our Pallet Network service. We hope, and we are confident that after you experience our excellent service once, you will become a repeat TPN customer for all future requirements.
This offer is worth savings of up to €80. For more information or to avail of this promotion, please call our office and mention this newsletter.
You should also be aware that besides our national 24hr delivery service, we offer a 48hr service to / from all UK destinations. We can also accommodate other international collections or deliveries.
---