Store-All Celebrating 20 Years in Business

The Business Event, which we hosted at our Marine Point offices on Thursday 27th July, in conjunction with Waterford Chamber of Commerce, was a great success with almost 100 attending.
We were celebrating our 20th year in business, introducing our new branding, as well as launching our new website.

We were delighted to share the evening with the Waterford Chamber President, Nora Widger, and CEO, Nick Donnelly, who are pictured along with the guest speaker on the night, Padraig Keegan of Glanbia Ingredients Ireland Ltd. on the roof-top of Marine Point, overlooking the Port of Waterford and the Suir Estuary.

The event afforded us the opportunity to thank our many customers, and all who supported us, over the past 20 years.
Glanbia Ingredients Ireland Ltd (GII) Welcome to Belview!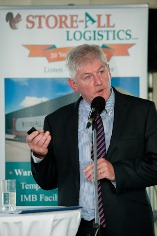 We were delighted that Padraig Keegan, Supply Chain Director at Glanbia Ingredients Ireland Ltd. took the time to attend our recent celebration, and spoke about their new milk processing plant at Belview.
He outlined how their investment will impact the local economy, and how the removal of Milk Quotas at the end of 2014 will impact the agricultural and processing sectors.
It is expected that there will be a 50% increase in milk production by the year 2020.

The new Glanbia Ingredients plant which is well under way at Belview will create 800 jobs over a 3 year period. There will be significant local opportunities, both in product and service supply, as well as an additional €24 million livestock spend by the farming community in order to fulfil the milk supplies to the plant. According to Ernst and Young, the economic impact will be a significant €510 million for the region, something that is most welcome at this time.
We congratulate GII on their investment and wish them well with the entire project.